Dames Who Read: Stealing Buddha's Dinner July 11, 2017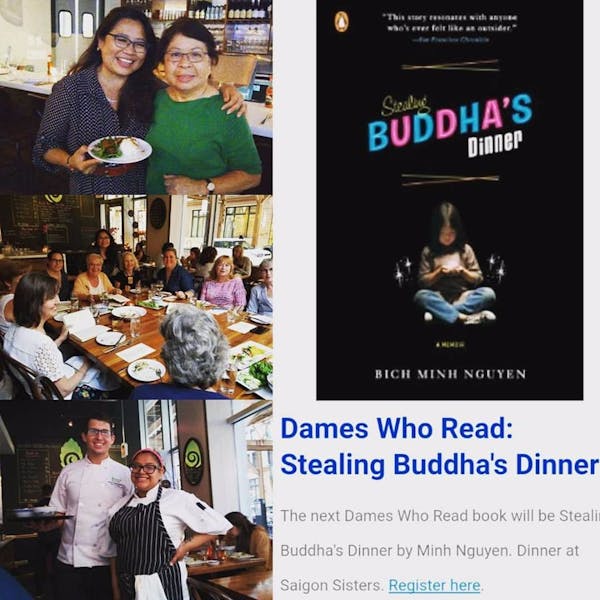 Stealing Buddha's Dinner by Bich Minh Nguyen
Sypnosis of the evening by Dame Toria Emas
Dames Who Read met at Saigon Sisters owned by Les Dames member Mary Nguyen Aregoni on July 11th. The restaurant was a fitting venue for dinner since Mary and her family experienced a similar immigration story as the author did. Mary's poignant tale included her escape from Viet Nam via Laos including a year in a refugee camp in Thailand and ultimately reuniting with her mother when she saw her across the field on the camp grounds.
The family's sponsors were from the Catholic community in Covington, Kentucky which explained the welcome bourbon drink aptly named Sweet Home Kentucky. The menu consisted of shared appetizers and entrees with a delicious Chicken Pho in between courses. Paralleling the book, Mary's family always had a pot of pho simmering on the burner. The menu version included a surprise avocado which showcased how Mary's staff adapted recipes to reflect their own heritage and cuisine.
A menu highlight was the Banh Xeo which was a crispy crepe with turmeric, bacon, shrimp, bean sprouts and nuoc cham served in a lettuce leaf with basil. Unlike traditional Vietnamese fare, Mary used lamb in the Luc Lac. Members kept wondering if Twinkies and Pringles would be on the menu since the book often referred to those "delicacies" as typical American delights that were coveted by new immigrants. Luckily Mary chose not to pay homage to the book and instead, concluded the meal with Red Bean Ice Cream and Baognet Donuts.
As a final treat, Mary's mother stopped by to say hello as did her Michigan-born husband. The author grew up in Grand Rapids and her father was remarried to a Mexican-American woman. Both families had similar structure with the grandmother as the head of household during their exodus from Viet Nam.
The American culinary landscape is changed and enriched with each wave of new immigrants. Judith Hines and Stacey Ballis deserve kudos for selecting the perfect summer read to showcase one of the chapter members who enriches the Chicago culinary scene with her personal touch and exquisite cuisine.