Main content starts here, tab to start navigating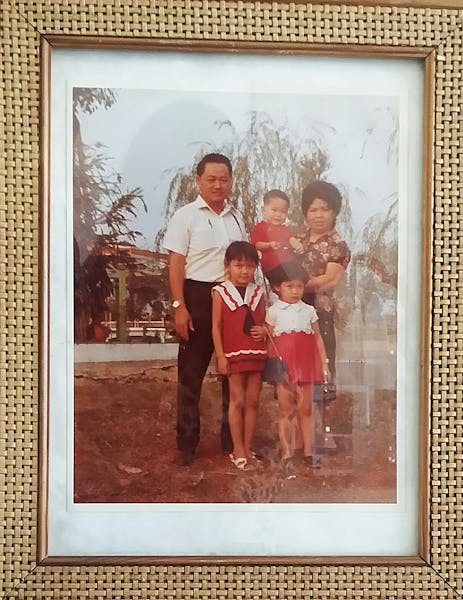 Being an entrepreneur is a spiritual and soul searching journey...
As we approach our 8th year in running our own business, I wonder how did I get here and am I still passionate about what I have created and proud of it? The answer is "Hell Yes" and I have never been more fulfilled in what I have accomplished than I had in 20 years working in a corporate culture. Little did I know that I am living a life that is my calling or the answer to my "WHY" despite all the ups and downs that come with the restaurant industry. My life story is reflected in my logo, brand, recipes, and menu. Saigon Sisters is a name that is a reminder of where my dad's family is from before the fall of Saigon and its name change to Ho Chi Minh City. It has nothing to do with politics or the war but simply a place in time that was part of my heritage and honoring my father who passed away 13 years ago. My sister and I are very close and when we thought about this brand in New York City at a yoga studio a decade ago, we designed a simple mint leaf with a swirl in the middle because we thought we could start a food business with a spring roll kit at farmers' market. Mint herb is a key ingredient in Vietnamese cuisine and anything that you can find at a farmers' market can go in a spring roll. When I moved to Chicago, I came across the first ever indoor farmers' market that was looking for food vendor for the Chicago French market as I passed the sign going to my career counseling office in the West Loop. Then I thought spring rolls are not French, but Banh mi sandwiches are French influenced for the baguette and so are some other Vietnamese dishes. Besides we grew up learning French culture and had a mixed French Uncle. We were selected as one of the first vendors to be selling banh mi sandwiches and spring rolls in the market. My mother (aka Mama Suu) was ecstatic because she can become an entrepreneur again through us and work in a market where she and my grandmother started their successful businesses back in Vietnam and Laos. It has come full circle when she has to leave all her successful businesses behind in 1975 after the war to give us a better life in the States and now it has come back to her after 33 years. So we started out in this little stand at the French market which became so popular for the lunch crowd that we had to expand to another location with a bigger kitchen to support it. We are still going strong as one of the original anchors of the market and our concept and brand was well recognized enough to be selected to open in Northwestern Memorial hospital. They selected us because we are a local brand with healthy options and have a unique and appealing menu. We now have 3 Saigon Sisters restaurants in Chicago and looking to grow and scale the concept.
It was a real proud moment and an honor for us to see the Saigon Sisters brand name in lights with our logo mint leaf and Vietnamese words like Pho and Banh Mi etched in glass at one of the most prestigious hospital in the country. Our menus are the same at all locations, but back at the restaurant location where we have a commissary kitchen is where we get to create more iconic and inventive dishes of Vietnamese cuisine. That's when I long to learn more about my root which took me on trips back to Vietnam to know where my grandmother and mother came from and understand the regional dishes and ingredients. After my trips, I would do themed dinner event showcasing all the great recipes I gathered and transport my guests to that experience. I would entitled it Culinary Journey through the Mekong and name cocktails in reference to my past such as Saigon 75 (year I migrated to the US) or Sweet Home Kentucky (where I settled as a refugee). I also opened a new restaurant called Bang Chop Thai kitchen 1.5 years ago a block away from the market because I grew up eating Thai food and lived in Thailand as a refugee for 2 years. My love for Laos, Thai, Vietnamese and French food is strong that I created a viable business out of it.
Everything I do in my business is somehow related to my past, family and a part of who I am. What a great privilege to make a living out of an expression of who I am and making an impact to many people. It's a never ending journey and I am still learning and discovering and I love every minute of it along side with my mom, husband, and sister. I look forward to the next 8 years and beyond to see what new experiences and learnings from this business. But most of all, I am grateful for our employees who show up and work hard every day to cook, clean and serve our food to thousands of happy customers. I couldn't have done this without my family, my employees and our great customers and fans. Thank you from the bottom of my heart!