Main content starts here, tab to start navigating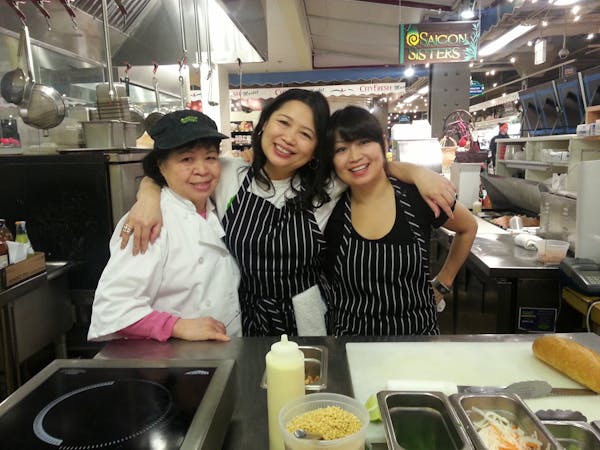 The Brand Story Behind Saigon Sisters
The Brand Story Behind Saigon Sisters
"Everything I do in my business is somehow related to my past, my family and a part of who I am," explained Mary, who was a baby when her family was living in Laos to escape the dangers of war in their homeland of Vietnam. The aftermath of the war reached Laos in the mid-1970s, and Mary's family believed they had no choice but to leave everything behind and search for freedom elsewhere. They settled in a refugee camp in Thailand for two years, before immigrating to the United States in in 1975. It was decades later in 2009 when Mary took a leap of faith herself, leaving a successful 20-year career at Procter & Gamble for a taste of entrepreneurial success.
Mary, her husband (Dan), and her sister, Theresa Nguyen, first came up with the name Saigon Sisters and an idea to sell Vietnamese spring rolls at farmer's markets. Mary passed a sign seeking food vendors for the new Chicago French Market and got the inspiration to act on their concept. The sisters designed their logo with a simple mint leaf because mint is a key ingredient in Vietnamese cuisine and is one of many aromatic herbs and spices -- as well as healthy vegetables, seafood and meats -- that Saigon Sisters infuses in their dishes made from authentic family recipes.

"My mother, Mama Suu (Nguyen), was ecstatic because she could become an entrepreneur again through us and work in a market similar to one where she and my grandmother started their successful businesses back in Vietnam and Laos. Saigon Sisters is also a reminder of my dad's family, where they were from before the fall of Saigon and its name change to Ho Chi Minh City. It has nothing to do with politics or the war but simply a place in time that was part of my heritage and honoring my father, who passed away in 2004.
I long to learn more about my roots, which takes me on trips back to Vietnam, Laos and Thailand to understand the regional dishes and ingredients. What a great privilege to make a living out of an expression of who I am and make an impact on so many people who can enjoy the iconic and inventive dishes of Vietnamese and Thai cuisine.
It's a never-ending journey and I am still learning and discovering, and I love every minute of it alongside with my mom, husband, and sister. I look forward to the next decade and beyond and see what new experiences and learnings are from this business. But most of all, I am grateful to our employees who show up and work hard every day to cook, clean and serve our food to thousands of happy customers. I couldn't have done this without my family, my employees, and our great customers and fans. Thank you from the bottom of my heart!"
Cảm ơn bạn,
Mary, Dan, Mama Suu, Theresa and the Saigon Sisters family